Pan African Conference on Crystallography (PCCr3)
January 17th -21st, 2023
BOMAS of Kenya Nairobi.
Click here, for the conference programme.
What is PCCr3?
Crystallography is the cornerstone of Chemistry, Physics, Material Science and Engineering. Africa's economic growth depends on its harnessing and exploiting its mineral resources.
The purpose of the conference is to stimulate economic growth in Africa by building synergy between Funding agencies, Industry and Academia through exploitation crystallography to enhance research and innovation.
This would pedestal Africa to knowledge driven economy based revolution on identification and value addition of natural mineral resources. This conference opens opportunities African Crystallographers to exchange ideas and collaborate in use of crystallography in advancing science and engineering is important in the development of sustainable economic growth in Africa. Similarly, the African Crystallography Association (AFCA) will be launched during PCCr3. The Materials Research Society of Kenya is pleased to welcome participants to Nairobi 'City in the Sun' renowned Nairobi National Park is the only one the world to be found within the precincts of a city.
Theme: Harnessing Crystallography For Africa's Research And Technology Transformation
Sub-Themes
✓ Inorganic and Industrial Materials  
✓ Crystal Engineering and Structural Chemistry 
✓ Crystallography and Life Sciences
✓ Diffraction Physics and Phase Transformations
✓ Crystallographic Databases
✓ Application of Crystallography in Materials Science, Agricultural and Geological Sciences
Cambridge Crystallographic Data Centre (CCDC) FAIRE PRESS RELEASE

CCDC Welcomes New Applications for its FAIRE Grants to Advance Structural Science
FAIRE grants provide access to the Cambridge Structural Database, software and training.
The Frank H. Allen International Research & Education Programme (FAIRE)

provides long-term grants to enable academic research in structural chemistry in over 80 eligible countries.

Launched in 2017, the number of research and educational institutions with a FAIRE license nearly doubled in 2022 to 31.

The initiative has supported researchers to publish over 100 scientific publications in primary research journals since its launch.

With research and education organisations in over 80 countries eligible to apply, the FAIRE programme has the potential to greatly widen its positive impact and new applications are welcomed.

Continued engagement with the structural science community through conferences like

the Pan African Conference on Crystallography (PCCr3)

currently being held in Nairobi, Kenya, aims to grow and further support the FAIRE community.
Cambridge, UK – 16 January, 2023 – the Cambridge Crystallographic Data Centre (CCDC) welcomes new applicants for its FAIRE grants to support structural chemistry education and research in over 80 eligible countries.
The FAIRE programme is dedicated to the memory of the CCDC's former Executive Director. Dr Allen led the Centre from 2002 to 2008, during which time he was passionate about bringing the crystallographic knowledge held within the Cambridge Structural Database (CSD) to the widest possible international community of structural chemists.
Helping to address the challenges faced by scientists in countries with restricted financial resources, the three-year renewable grants cover the costs to access the CSD, software, training, and teaching materials for an entire university campus.
Launched in 2017, 31 research and education establishments worldwide now receive FAIRE grants, including in Benin, Ghana, Venezuela, and Morocco. But with research and education institutions in over 80 countries eligible to apply, the FAIRE programme and associated community of scientists has the potential to expand even further.
One member of the FAIRE programme, Dr Samuel Tetteh from the University of Cape Coast in Ghana, encourages others to apply:
"The Cambridge Structural Database contains a wealth of carefully curated information for teaching and research involving structural chemistry and crystallography. Through the FAIRE programme, I have gained access to the CSD and can confidently illustrate to both my undergraduate and postgraduate students concepts such as VSEPR Theory including molecular geometry, bonding in organometallic chemistry, point group symmetry for molecular compounds as well as intermolecular interactions."
"The 3D crystal structures can be rotated and translated to give molecular illustrations from different perspectives. Through the FAIRE programme, I can know if the compounds I am working on have already been published so that I don't waste my time in the lab. This is a great opportunity for all scientists who are interested in structural science."
– Dr Samuel Tetteh, University of Cape Coast, Ghana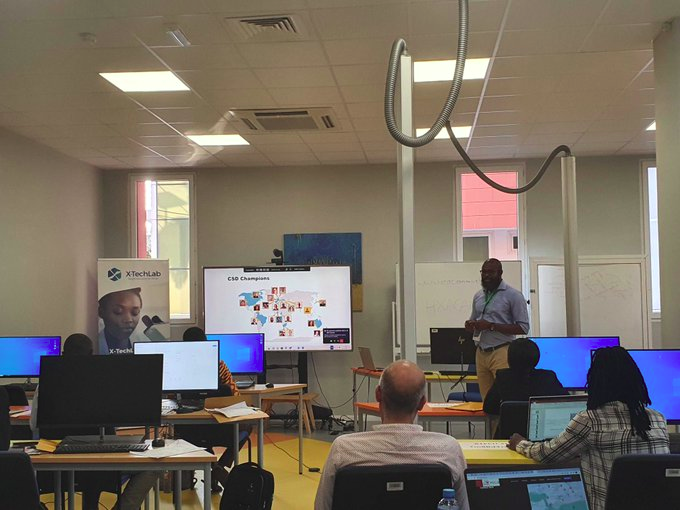 Dr Tetteh and team's scientific paper "The Cambridge Structural Database (CSD): Important Resources for Teaching Concepts in Structural Chemistry and Intermolecular Interactions" has just been accepted for publication by the journal Physical Sciences Reviews, the latest addition to the growing list of scientific publications in primary research journals resulting from the FAIRE programme.
In addition to providing access to the CSD and software, the CCDC is committed to ensuring FAIRE users receive the ongoing support and training they need so the FAIRE offerings can be fully utilised for research and education in their institutions. For example, at the PCCr3 meeting in Kenya the CCDC is giving a workshop on how to get maximum value from the CSD and giving a talk ''From Molecules to Medicine. How Data from the CSD Can Help to Understand Pharmaceutical Discovery, Development and Manufacturing."
Speaking from the PCCr3, Suzanna Ward, Head of Data and Community, CCDC, said: 
"As a non-profit charity pushing the boundaries of structural chemical science for the benefit of society, we believe that economics should not be a barrier to scientific excellence. Our FAIRE programme empowers scientists to achieve their research goals and I am delighted to see some of the results being showcased here at PCCr3."
– Suzanna Ward, Head of Data and Community, CCDC
Further Information
More information on the FAIRE programme, including how to check eligibility and how to apply, can be found here.
More information on the PCCr3 which runs from January 17-21 in Nairobi, Kenya, including the speaker agenda and workshop details, can be found here.
Press Contact
Sophie Bryant, Marketing Manager, sbryant@ccdc.cam.ac.uk
Notes to Editors
Interviews with CCDC scientists and C-level executives available upon request.
Molecular images for both print and electronic use available upon request (credited: Image courtesy of The Cambridge Crystallographic Data Centre (CCDC)).
About the CCDC
The Cambridge Crystallographic Data Centre (CCDC) are world-leading experts in structural chemistry data, software and knowledge for materials and life sciences research and development.
We specialise in the collation, preservation and application of scientific structural data for use in pharmaceutical discovery, materials development and research and education.
We compile and distribute the Cambridge Structural Database (CSD), a certified trusted database of fully curated and enhanced organic and metal-organic structures, used by researchers across the globe.
We inspire the next generation of scientists through our educational and outreach activities, and through our PhD sponsorships.
We empower scientists of all backgrounds to achieve their research goals through our FAIRE access programme as part of our non-profit, charitable status.
Our cutting-edge software empowers scientists to extract invaluable insights from CSD and proprietary data, informing and accelerating their research & development.
More info at The Cambridge Crystallographic Data Centre (CCDC).
PCCr3 SPONSORS